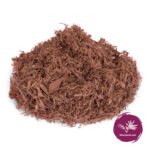 Mimosa hostilis Inner Root Bark (MHRB) – shredded
€13.00 – €437.00 inc VAT
Description
Additional information
Shipping information
Description
Mimosa hostilis Inner Root Bark (MHRB) – shredded
Fresh Stock!
BOTANICAL CLASSIFICATION
FAMILY:  Fabaceae (Leguminosae; Mimosaceae)
GENUS: Mimosa
SPECIES: Mimosa Hostilis (Mimosa tenuiflora)
ORIGIN: Brazil
COMMON NAMES:  Jurema, Tepescohuite, Cabrero, Carbonal, Jurema Preta, Calumbi, Black Jeruma, Vinho de Jeruma, Yurema
We offer Mimosa hostilis inner root bark from a reputed source, a company that has years of experience in harvesting and processing Mimosa hostilis root bark. We believe that this is the best quality Mimosa available on the market. We always offer a freshly harvested batch, not an old stock!
Our supplier – supports sustainable harvesting – only one root is harvest  from each plant.
Sadly the greedy suppliers are willing to kill a whole tree , for all its roots.
Mimosa hostilis is the former scientific name for Mimosa tenuiflora, and the two names are synonymous. The older name is still widely know due to its presence in the literature and as distributers of botanical products still use the older term.
The bark of Mimosa tenuiflora is a traditional remedy for several skin ailments like burns, ulcer and psoriasis and plays furthermore a role in the treatment of wounds. For ethnopharmaceutical use the bark is usually powdered and often applied as decoct or cataplasm. According to the studies performed with Mimosa tenuiflora to the present, it seems that the woundhealing activity of this plant is due to a combination of the several different compounds (tannins and flavonoid mainly).
For more information see:
https://wiki.dmt-nexus.me/Mimosa_hostilis
https://erowid.org/plants/mimosa/
https://psychonautwiki.org/wiki/Mimosa_tenuiflora
Check out our Shredded and Powdered variants
Additional information
| | |
| --- | --- |
| Weight | N/A |
| Weight | 50g, 100g, 250g, 382g (allows cheaper shipping), 500g, 830g (allows cheaper shipping), 1kg, 2kg, 3kg, 5kg |
For our UK & EU customers
Registered shipments shipped with DPD experience little to no delays, except for some parts of Northern Italy. Transit time to UK: 2-3 working days Transit time to the rest of Europe: 2-5 working days
New update 24-04-2020 for our US Customers
We have implemented a new premium shipping method with UPS for our US customers. It will cost $25 for a 3-4 day express. Shipments made to the major metropolitan area's on the east coast usually receive their package the next working day.  This shipping method is now available during checkout.
General shipping information
Mimosaroot.com ships to most addresses around the world. Note that there are restrictions on some products, and some products cannot be shipped to international destinations. (You will be notified if this is the case but it is very rare that we cannot ship an item)
Orders placed on Friday after 3:00 p.m. GMT +1 or over the weekend will begin processing on the following Monday or next working day.
Please also note that the shipping rates for many items we sell are weight-based. The weight of any such item can be found on its detail page. We have optimised some weight options which basically allows you to order the maximum amount of product for the shipping category.
The shipping categories are as follows:
S: 0-500g
M: 500g-1000g
L: 1000g-2000g
Anything higher in weight we will be spilt up different packages.
We understand that when you make an order, you want your order as quickly as possible and we will do our best to make that happen! Most of the items we sell will ship quickly and be at your door fast.
We work hard to make sure items we sell are available for quick fulfillment and shipment, naturally not all items will be in stock at all times! If a product is out of stock a notification is shown on the website with the approximate date when back in stock. In some cases we will split the order and ship each package out to you individually and in other cases we may need to consolidate the items in one location to ship out as one package. We utilize our best judgment in an attempt to get the products to you as quickly as possible.
A shipping confirmation email including carrier specific tracking information will typically be sent within 12 hours after making your order. If you don't see an email, please check your SPAM folders before you contact us. Many times because it is a business sending the email they are tagged as 'SPAM' and filed accordingly by your email server.
USPS will attempt to deliver a package up to 2-3 times, after a failed third attempt, the package will be re-routed back to our warehouse and a refund will be issued to the original form of payment less shipping costs and the item will be returned to stock. If you would still like this item, you will need to reorder the item again.
United states – USPS registered shipping
We have many returning customers from the US. To provide all our US costumers with the best and most reliable shipping method we have decided to ship our Mimosa Hostilis root bark by USPS/ Deutshcepost. shipments to the US typically arrive between 7 and 10 days after dispatch. After you have completed your order a USPS tracking number will be provided which can be used to track your order all the way to your door step.
Europe (including UK) – Registered shipping
All orders within Europe are shipped with DPD, a reliable partner that does not transfer your order to another carrier. During checkout you will have the possibility to have your order delivered to your nearest DPD Pick-up point as well.
transit times for international deliveries
Shipments within Holland
Shipments within Holland are shipped with PostNL, products bellow 450 grams are shipped by mailbox package (automatically selected during checkout)
Good to know:
Orders with registered shipping that are made from Monday to friday before 17:00 GMT+2 are shipped out the same day.
Your privacy is paramount to us and our discreet packaging guarantees that you are the only one getting excited by the parcel – to others it will look plain boring.
The only markings on your parcel are your address label on the front and a postal/parcel service sticker
You will receive a track & trace code.